This season we have all new colours and all new items, so whether it helps you swim better, keeps you warm, protects from the sun or just shows off your achievement, the OWS Series has merch for you.
Click through to the shop and order your merch for pick up at the Vorgee tent on event day, but don't wait long as stock will not last.
Custom Name OWS Series Swim Caps – $20 (No text – $12)
These silicone caps can be used in OWS Series events provided the colour matches the wave you have entered.
You will still be issued a latex single-use cap in your event pack, but if using an OWS Series Silicone cap of matching colour, you can return the unused cap at the registration or merchandise desks before the race and help us reduce single-use items.
Add your name to our offical OWS Series Silicon Swim Cap
Pick up will be available at Round 5 Rockingham. Only available until 31 October 2020. You will be contacted to provide the name you would like printed on your swim cap.
OWS Water Bottle – $20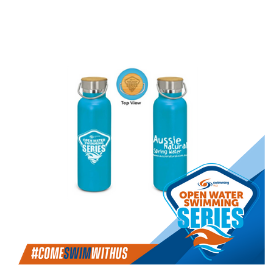 Available in two colours light blue or royal blue. 650ml double-wall vacuum insulated stainless steel drink bottle which has an extremely durable powder coated matt finish. Powder coating is very resistant to scratching, chipping and wear. Will keep drinks cold for 24 hours or hot for up to 12 hours. A trendy screw-on lid with a stainless steel carry handle and a bamboo veneer.
Caps & Bucket Hats – $20
Protect yourself from the sun this summer with one of our headwear options, the traditional OWS Series Cap and two colours of our new sun smart bucket hat.
OWS Series Lunch Box – $20
Keep your food and fluids cool and ready during your swim with our OWS Series Cooler. Check out our video for nutrition and feeding tips for open water swimmers: Fuelling for Open Water Swimmers
OWS Series Beach Towel – $20
Scream Open Water Swimming loud and proud with our full print OWS Series Beach Towel. 150cm by 75cm
OWS Shirts – $25
Limited sizes left of our COME SWIM WITH US Tees so order yours early and don't miss out. These come in Female cuts (Jade) and Male cuts (Dark Grey)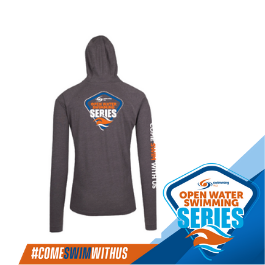 OWS Long Sleeve Hoodie Tee – $40
Get the best of both worlds with our COME SWIM WITH US Hooded Tee. Combining the light breathable fabric of our short sleeve tee and added warmth and protection of a long sleeve hoodie.
OWS Hoodie Jumpers – $60
OWS
Puffer Vest – $80
Dont let sleeves hold you back. Shield your self from those cool morning breezes and grab yourself one of our brand new OWS Puffer Vests.
Vorgee Goggles