OWS Series Round 3: Lake Brockman (7.5km State Championships)
13 November at 6:00 am

-

11:30 am
Proudly presented by
and supported by

Remember to be SunSmart as you swim with us
Slip-on sun-protective clothing that covers as much of your body as possible.
Slop on SPF 30 or higher broad-spectrum, water-resistant sunscreen, at least 20 minutes before sun exposure. Re-apply every two hours when outdoors or more often if perspiring or swimming.  (Apply your race number before applying sunscreen)
Slap on a broad-brimmed hat that shades your face, neck and ears.
Seek shade.
Slide on sunglasses.
Registrations close in


Round 3: Lake Brockman (7.5km State Championships)



Saturday 13 November 2021
Thank you for registering for the OWS Series.
We're excited that you will join us for an amazing morning of open water swimming.
Please read the following for everything you need to know before you swim.
In the week leading up to the Round, you will be emailed an e-ticket with your Race Number.  Please check your details are correct and you are listed in the correct event (if you have any concerns please email: ows@wa.swimming.org.au).
Please bring a printout or have the e-ticket open on your phone at check-in to reduce waiting queues.
Wetsuit Rules & Regulations 
Please note that this race is wetsuit optional. Wetsuits must comply with FINA Rules and By-laws and must completely cover the torso, back, shoulders and knees. They shall not extend past the neck, wrist and ankles. Wetsuits for both men and women shall be in one piece.
At our OWS events, wetsuits must be worn if the water temperature is between 16.0 – 18.0 degrees Celsius. Wetsuits are optional for water temperatures between 18.0 – 20.0 degrees Celsius.
If the water temperature is below 20.0 degrees Celsius, swimmers wearing wetsuits will be eligible for points in the overall OWS Series leader board and also for prizes if they finish within the respective finishing categories.
Wave Times
*Please note that the below times are subject to change due to swimmer numbers and conditions.
500m: Briefing time – 07:30 am, Start

Time

– 07:40 am, Cap Colour – Purple

1.25km: Briefing time – 07:55 am, Start Time – 08:00 am, Cap Colour – Silver

7.5km: Briefing time – 07:55 am, Start Time – 08:06 am, Cap Colour – Purple

5km: Briefing time – 07:55 am, Start Time –  08:09 am, Cap Colour – Red

2.5km: Briefing time: 07:55 am, Start Time: 08:12 am, Cap Colour: Green
Feeding Area for Swimmers
A feeding area for swimmers will be located between the red and yellow buoys in the water close to the shoreline. This area is marked on our map course below by a yellow arrow and small X.
Only volunteer feeders for swimmers are permitted to be in this area during the race.
Swimmers wishing to feed can swim in a straight line towards the shore and receive their feeds in person while standing from their volunteers in waist deep water.
We ask that swimmers do not push off the ground and cut the race line angle while returning to the race. They must re-join the race on a straight line back to the course, rather than walking or running and cutting the angle.
Volunteers please be wary of the slope and grip levels on the clay underwater as this may be slippery.
Presentation Times
We will try and get medals underway by 8:45am. Medal presentations are planned for:
1.25km at      8:45am
2.5km at        9:30am
5km                10am
7.5km            10:40am
We may have to stagger the medals whilst we wait for the final results.
Please be patient, and if you need to leave before, you can collect you award from Swimming WA's office at Beatty Park anytime.
Registration
We highly recommend all swimmers take a screen-shot of their E-Ticket and registration details prior to this swim as reception may be limited at Lake Brockman.
The check-in area will be located on the beach in front of the cafe and open from 6:30am to 7:30am. Please arrive early to avoid the "last-minute rush".
Swimming WA members have their own registration area. State Swimmers are to present at registration with their swimwear. All swimmers will need to have their nails cut, along with all jewellery and piercings removed.
You must bring your e-ticket with your race number with you to check-in and proceed directly to the tent marked with your swim distance!
Your entry pack includes a timing chip, race tattoo and race coloured cap depending on your chosen distance.  it is compulsory to wear these at all times during the swim for identification purposes.  Note: OWS silicon caps can replace the cap in your pack as long as the colour matches the distance you have entered.
NOTE THAT ENTRY PACK PICK UP & LATE REGISTRATIONS WILL CLOSE AT 7:30AM SHARP.  IF YOU ARRIVE AFTER THIS TIME YOU WILL NOT BE PERMITTED TO PARTICIPATE IN THE EVENT.
THIS IS A WATER SAFETY MEASURE AND IS STRICTLY ADHERED TO.
Distances Available
500m               9 and above – Participation
1.25km           U/15, U18, Open (18-34), Legend (35-49) & Super Legend (50+)
2.5km             U/15, U18, Open (18-34), Legend (35-49) & Super Legend (50+)
5km                 U/15, U18, Open (18-34), Legend (35-49) & Super Legend (50+)
7.5km             U/15, U18, Open (18-34), Legend (35-49) & Super Legend (50+)
Late Registration or Changes
You can register online, or at the help desk (found at the front of the check-in area) on the day of the event right up until 30mins before the first event, when late registrations and distance changes close.
Note: Changes to race distances can be made online up to one day before the event.  It is recommended if you wish to change your distance to do so as early as possible to avoid queues.
Step 1. Click here
Step 2. Enter email that was used to register for swim
Step 3. Select the event you wish to change the distance and click the "Access" link.
Step 4. Scroll down to the Event heading and click the green "Edit" button.
Step 5. Select your desired distance and click the green "Continue" button and follow the prompts through to the end.
Note that there is $2 charge to make alterations so we recommend only changing when you are sure of your choice.
TIMING CHIPS
Timing chips need to be worn on the wrist. In addition, State Swimmers will have two timing chips and we recommend wearing one chip on each wrist.
All timing chips must be returned as soon as you have finished the swim.  Failure to do so will incur a $20 fee for the replacement.
RACE FINISH
The race finish will occur in the water, with swimmers finishing under a barrier that hangs around 0.5m above the water surface. Swimmers need to hit this barrier with their arm or hand and swim underneath to register their finish.
RACE TATTOOS
State Swimmers will have six tattoos in total. Tattoos are to be applied to both shoulders (large tattoos), both arms (medium tattoos) and both hands (small tattoos).
You will receive two individually numbered race tattoos. These need to be applied to the outside of each of your arms (medium tattoos).
No need to wait in line, you can apply the tattoo yourself:
1. Separate tattoos
2. Remove plastic coating
3. Apply to arm with logo at the top of the arm as pictured below
4. Apply water for 1min (wet cloth is best) or until soaked through
5. Slowly remove paper
Note: Make sure to apply the race tattoo before your sunscreen.
Swimmer Feeding for 7.5km and above
Parking
Please allow plenty of time to park and check-in as cut off times are strict.  Remember to follow all road signs and parking rules.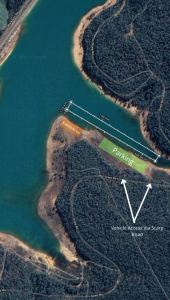 The Swim Course