Your Open Water Series Membership Explained:
Welcome to the Swimming WA Open Water Swimming Series. You're here because you're up for the challenge, so we want to make the journey one to remember. There are many options available to the Open Water Swimming Series Member.
Firstly you need to consider whether you have the capacity to swim a distance in open water.
Training will help and you can test yourself in the pool, but the real challenge comes in the form of perhaps a 500m, ocean swim?
Our 12 rounds offer the popular five distance courses: 500metres, 1.25km, 2.5km, 5km, 10km.
The 2017-18 Registration fees are:
This year we'll also include "Come & Try" OWS with a 150m course for beginners and the 7-13 year olds will again have the Rottnest "Champs of the Bay" in February with 150m, 300m, 450m and 600m courses.
….and Swimming WA is unique in that we are the only organisation that offers these in a Series.
To do this we have considered the overall cost to stage 12 rounds, what the public would like to test themselves against, and what competitive swimmers require to keep motivated and improve. We've developed the following structure for the upcoming series.
The cost to swim in each of the Rounds is a registration fee of $35 + GST = $38.50 per swim.
This provides the participant with a swim cap, an identification tattoo, eligibility for all awards, and medals, if placing in the first three.
Under the Swimming WA Constitution, all swimmers "must be affiliated" with Swimming WA for insurance cover, and this is achieved via "Membership".
A Day Membership of $20 suits those wishing to swim in one round.
However, in response to a change requested by our OWS participants to reward those who swim in more than one round, we can now offer cover for those wishing to swim in more than two rounds.
For $38, an OWS Annual Membership can be purchased when registering for instance in Round 1, allowing the participant to only pay the entry fee of $38.50 for any of their next rounds. The saving, if one swam in say 6 events is $82, or $202 if participating in the full 12-event season pass.
In essence, this equates to $3.80 per swim, if taken up at the beginning of the season.
As an annual OWS Member, you'll receive the following benefits such as:
Access to an exclusive website page on the OWS Website dedicated to OWS Members Only.
An $800 Viva Photography Voucher
A specially designed training schedule developed by a leading Open Water Swimmer to assist in preparation for a swim, during a swim and in recovery after a swim.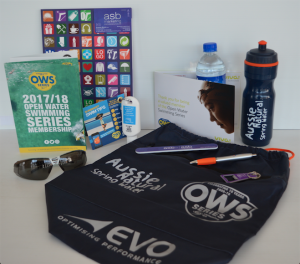 So what are you waiting for?
Click here to become and OWS Member today and challenge yourself!